COVID TIMES
These times of quarantine and self-isolation have changed our lives immensely, including our jewelry trade. Wholesalers, retailers and designers are placing greater focus onto online sales as a way of generating revenue.
At JWD, we've never been busier—helping current clients refresh their websites, and serving new customers by creating a robust online presence to keep selling while social distancing is in place—and afterward.
WE CAN HELP
Sadly, some potential clients instructed us to 'put plans on hold' while their revenue stream is in jeopardy. We understand that. We want to help. While we're recognized as the only No Template site builder in our trade, we've come up with a very economical solution for jewelers to get you going almost immediately while cutting way back on the cost of a website.
ECONOMICAL READY-TO-PERSONALIZE LAYOUTS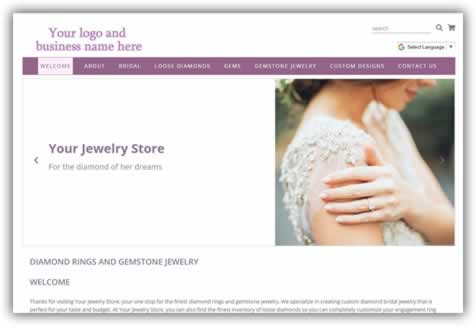 Retail Jeweler
This inviting eCommerce retailer's layout displays all the details about your business plus showcases your inventory. It can include your loose diamond and/or loose gemstone inventory if needed — there's even a translator if desired. Change the colors and even the homepage photo. Shoppers can complete their purchases online and share their favorite pieces on major social media platforms.
The Content Management System (CMS) allows you to manage your own inventory, upload product images, and modify page content yourself at your own convenience. No monthly fees or ongoing maintenance charges. Best of all, you own the site.
This fully loaded retail jeweler e-commerce solution is valued at $6,175. It has many valuable built-ins, even has a language translator if required. Easy self-maintenance. Special Offer is $3,499 with loose diamond inventory integration. Without diamond integration, $3,099, excludes hosting.
Click image to view the actual site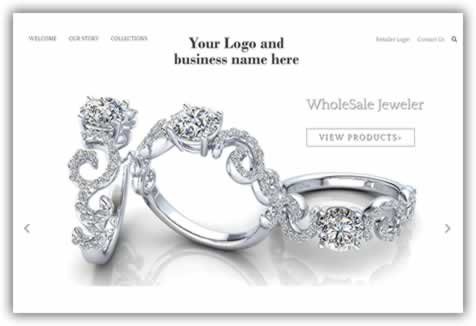 Wholesale Jeweler
This beautifully thought-out wholesaler's website design has great versatility, so you can make it your own. With your logo and inventory put in, your retail customers can see your inventory and wholesale pricing without making personal in-store visits.
Password protected login for your retailers so they can call, fax or email to complete a transaction. Easy to self-maintain. Keep a close connection with your retail clients through this attractive online solution.
Our complete Wholesale Look-Book catalogue solution includes a retailer's login capability. Retail prices displayed (optional) on the public view, and registered retailers log in to see their wholesale prices. Easy self-maintenance. Valued at $4,000. Special Offer $2,899, excludes hosting.











Your logo and every detail of your business will be adapted into the option you select. Your brand's colors can be modified where needed. We'll create original content that sells your brand effectively using SEO guidelines.
Call or email today to learn more. And stay healthy!