Built for B2B Jewelry Manufacturers and Jewelry Wholesalers
As a jewelry manufacturer or jewelry wholesaler, you have so much to juggle with running your business. You also want your retailers to display your products easily. This was a full time occupation until we created our proprietary system, the Profit Hub.
Profit Hub allows you to set a default reseller margin for gold, silver, and other products. Your customer adjusts to their own markup for each of these items. Your reseller can keep or change the default markup but also put unique markups for individual items. They can choose which items will display (called active) on their mini site or catalog. The base prices (before the reseller adds the margin selector) are the reseller's purchase price prior to their markup.
A unique link allows your customers to display your catalogue as a mini-site with their name and information appearing on the new screen. The retailer has the option to simply open a link or embed the page on their own site.
Keep control of your sales and make it easy for your retailers to sell your inventory all while keeping track of everything in a convenient and intuitive customized system. There are so many more benefits to discover. Contact us today and let us show you how the Profit Hub can work for you.
See our Contact Us page for our east-coast hours of operation during normal business days.



Reseller Online Catalog
You Set the Wholesale Price - Reseller adds their markup
Reseller conveniently places orders online
Payments are made via PayPal a/o other payment gateways like Authorize.net
Reseller can view past orders and quickly re-order
Inventory can be displayed in a grid fashion for ease of ordering
Reseller creates a "Wish List" to save items for future purchase
Mini Sites for More Exposure
Your Reseller can create their own mini site to promote your products
Site includes YOUR logo plus your Reseller's name
Reseller simply signs into their mini catalog to display your product selection to customers
Reseller can embed the mini site catalog within his own website
Products reflect reseller's retail price including his markup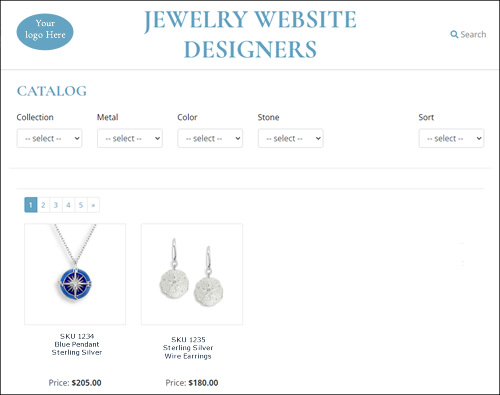 Example Mini Site
Resellers Control their own Markup
You set your price, resellers add their margin
Resellers can use the default margins for gold and silver - or modify them
Reseller can set markups on individual items for special promotions
Reseller chooses which items will be included in their mini site or catalog
Catalog Products reflect reseller's retail price including his markup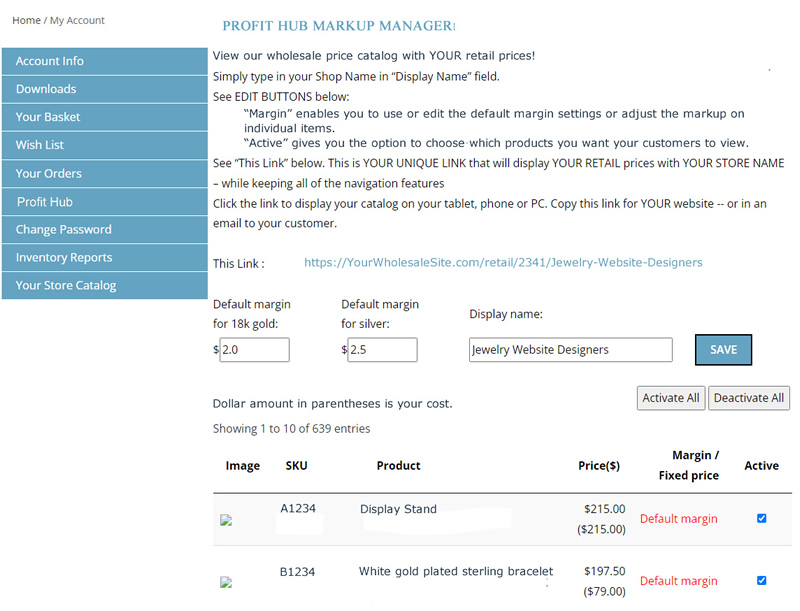 Profit Hub Markup Control
Offer Reseller Marketing Tools
Distribute Product Images, Videos, Ad Layouts
Help your reseller promote your products by providing resources available for download that they can use for advertising or social media promotions.
product web images
hi-res printable product images
product videos
ad sheets
Generate Inventory Reports
Reseller can select from a variety of inventory reports
Total Ordered
Stock Take - Complete Collection with product images
Mini Catalog
Sales Report (no images)

What's Included in Profit Hub?
Basic mobile responsive B2B eCommerce website w/unlimited products / 8 CMS Pages
Custom Shopping Cart with PayPal Payment Gateway calculating shipping, handling, Sales Tax (can be upgraded to other payment gateways)
Friendly URLs, Canonical Names for SEO
Loupe Magnifier for product images
Generate Downloadable PDF Catalog with Reseller Pricing
Order History - generate PDF Report of orders with images
Resellers can View Order History online with option to reorder
Special Downloadable CSV Web Orders Report Filtered by Date
Profit Hub Dashboard (Reseller assigns markup % to their own inventory catalog)
Reseller Minisite Unique Landing Page displaying their own inventory catalog
Display Designated Related items when piece is selected
Upload promotional marketing resource documents/videos, product images for reseller download
Set up SSL Certificate (purchased by Client)
Web Sales Summary Report
Filter Products Display (price range, category, metal, etc)
Password Protected Retailers catalog w/ wholesale pricing
Additional features/functions can be added. Pricing does not include annual hosting fee or domain name renewal